The best variety of apple is one fresh off the tree.  Late summer or fall is the best time to head to the apple orchard to pick a bushel.  Then get on home and make some pies, applesauce, apple butter, apple crisp, and more.  Due to wonders of commerce, apples are available all year long, but nothing beats fresh off the tree.  When you find yourself with a bushel of apples, can some!  But what are the best apples for canning?
Where to get Apples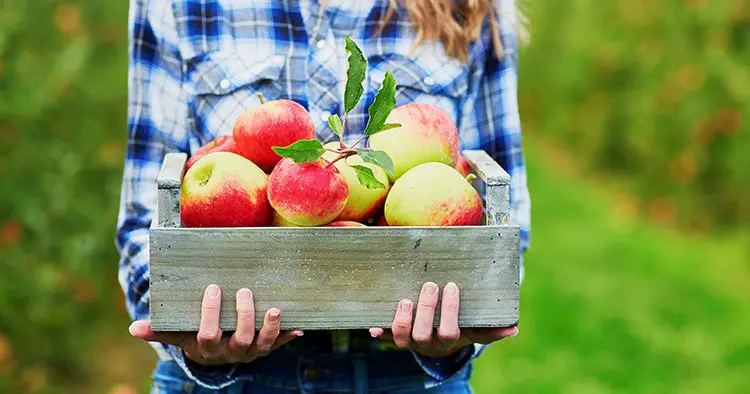 Pick Your Own – If you'd like to pick your own, this site will link you to all of the farms in the United States, Canada, Britain and other countries.  https://www.pickyourown.org/
Farmer's Markets
Grocery Stores
Apple festivals – There is also a link to apple festivals where you can celebrate all things apples.  Check for these in the fall.
Grow your own or find a neighbor who has extra!
Fun Apple Facts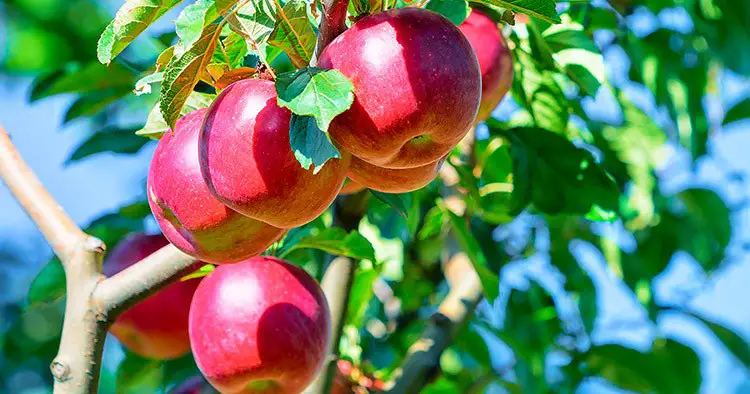 Apples are grown in all 50 states. 
Crabapples are the only variety native to North America.
Apple trees originated in the area between the Caspian Sea and the Black Sea.
Besides crabapples, the first apple trees in American were planted by the pilgrims in the Massachusetts Bay Colony.
2,500 varieties of apples are grown in the United States, and 100 varieties are grown commercially.
There are 7,500 varieties of apples that are grown throughout the world.
Apples trees come in many sizes, including dwarf apple trees and trees that grow up to 22 feet (6.7 meters) tall.
A peck of apples weighs 2.5 pounds (1.13 kilograms).
Top apple producing states are Washington, New York, Michigan, Pennsylvania, California and Virginia.
Tips on Choosing and Storing Apples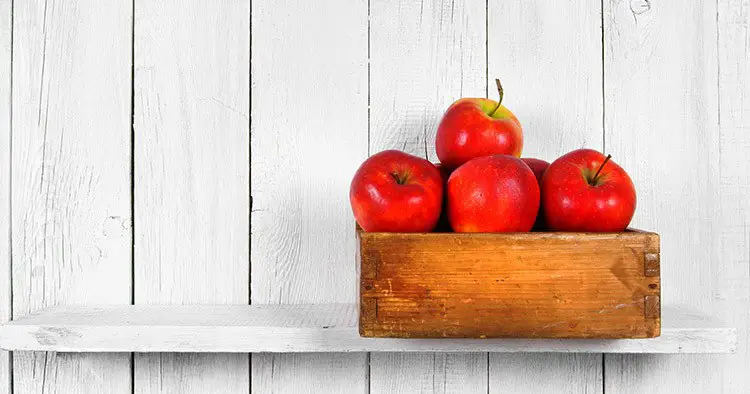 As you want nice fresh apples without blemishes, Treat apples gently so they don't bruise easily.
Wash apples just before using them.
Storing apples in the refrigerator or an area of your basement, will keep them cool and they will last longer.
Choose apples that are ripe as apples do not further ripen on your counter like other fruits.
As potatoes can cause apples to spoil faster, do not store apples and potatoes near each other.
If you are keeping apples for the long run, wrap them in newspaper and then stack the apples.
Some apples keep well and some do not. Check with a grower or research your particular variety want to store them for a while.
Why do Apples Turn Brown?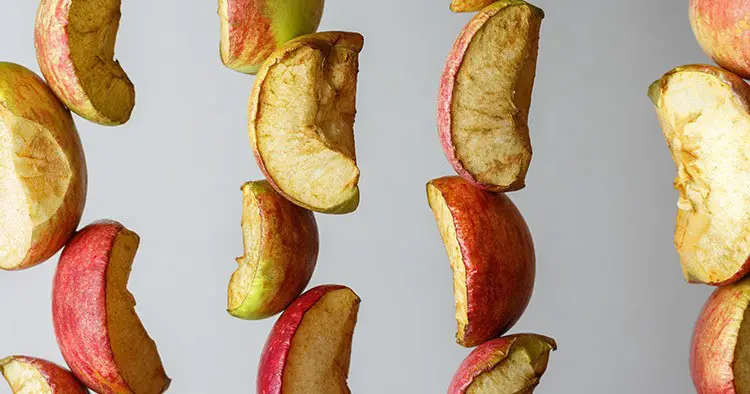 Apples have enzymes that react with oxygen and result in the apple browning rather quickly.  In order to stop or slow this process, there are several things you can do:
Combine 2 quarts (1.9 liters) of water with ½ cup of lemon juice (1 part lemon juice to 16 parts water) and dip the apples in the solution.
Sprinkle FruitFresh or citric acid over the apples and toss them until they are coated.
Dip the apples in sugar or a sugar syrup after cutting.
Blanch the apples (dip them in boiling water for 60 seconds), then scoop them out and place them in ice water for a couple of minutes.
How Many Apples do I Need for Canning?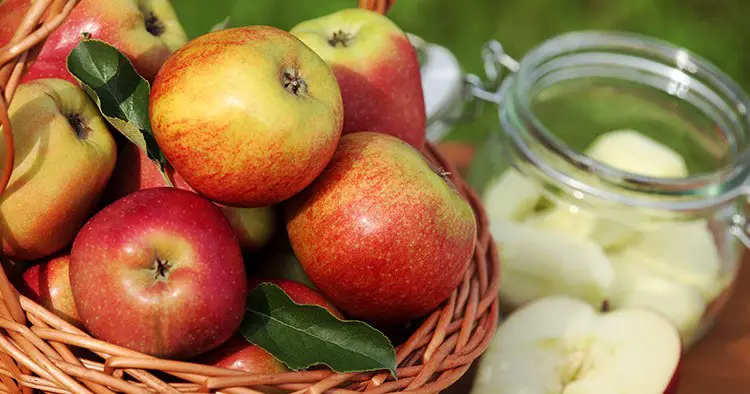 Two pounds (.9 kilograms) of apples make one 9-inch pie
A bushel of apples weighs about 42-48 pounds (19-21.7 kilograms), which is about 85-95 apples and will make 12-16 quarts (15 liters) of canned applesauce, or 28-36 pints.  This is with no added sugar.  If you add sugar, it will can 14-18 quarts (13.2 – 17 liters)
Bushel of apples makes about 14 pints of apple jelly
3 pounds (1.36 kilograms) of apples make approximately 1 quart (.95 liter) of applesauce or 2 pints
8 medium apples are approximately 2.25 pounds (1 kilogram), enough for 1 nine-inch apple pie or 3 cups of applesauce
It takes 36 pounds (16.3 kilograms) of apples to make one gallon of apple cider
Popular Apple Varieties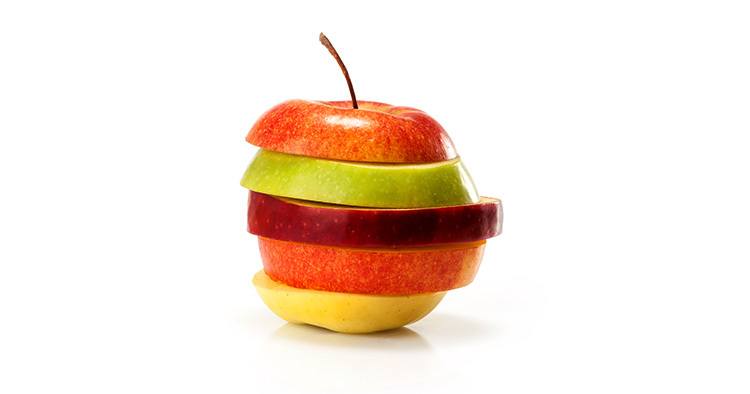 With over 100 varieties of apples grown commercial and many more grown locally, it would be impossible to list them all.  These are the most popular ones mentioned in canning recipes and most commonly found.  Do not hesitate to choose other varieties.  For the best way to use your apples, check with your local farmer or research the variety online.
Red Delicious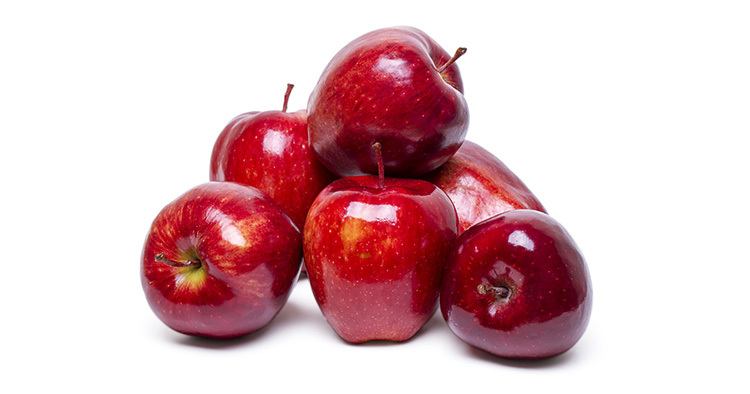 Red Delicious is most widely grown apple in the United with approximately 62 million bushels harvested per year.  Characterized by a thin bright red skin and mildly flavored fine-grained white flesh, it is soft, which makes it an ideal base apple for applesauce.
Jonagold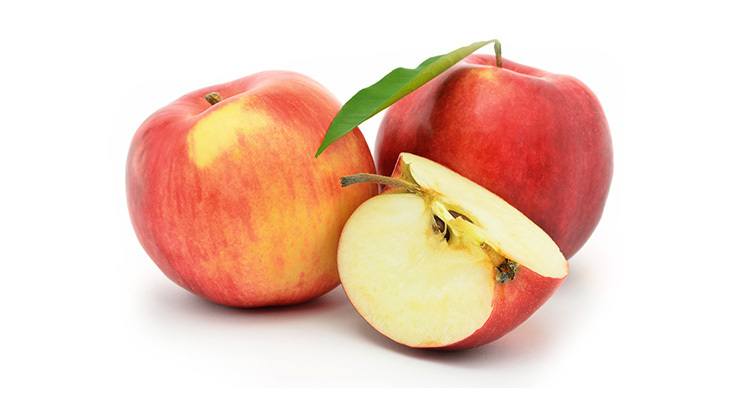 Jonagold is a blend of Jonathan and Golden Delicious apples.  With a tangy-sweet flavor and firm flesh, it is great for eating and cooking.
Granny Smith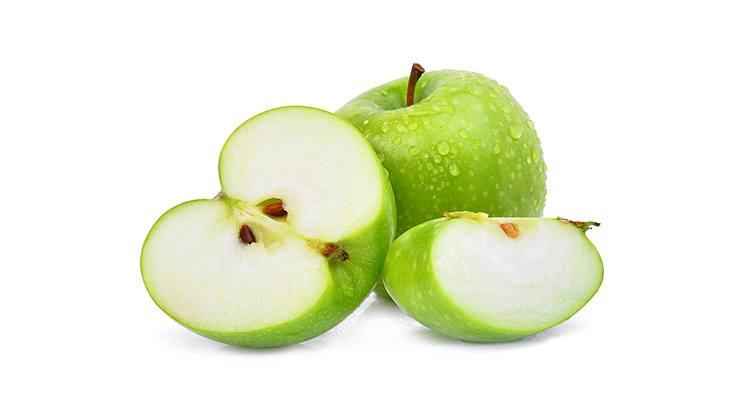 Granny Smith are those bright green crisp and tart apples that may have a pink blush of color.  Wonderful baked and sautéed, they are great for pies.. Granny Smiths are best used in recipes where sugar is added (unless you like a very tart flavor).
Honeycrisp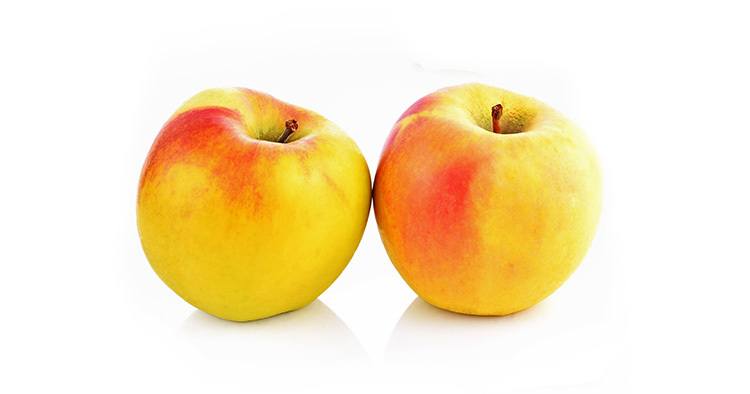 Honeycrisp are a great apple for pies and baking as is juicy, very sweet and aromatic. 
Fuji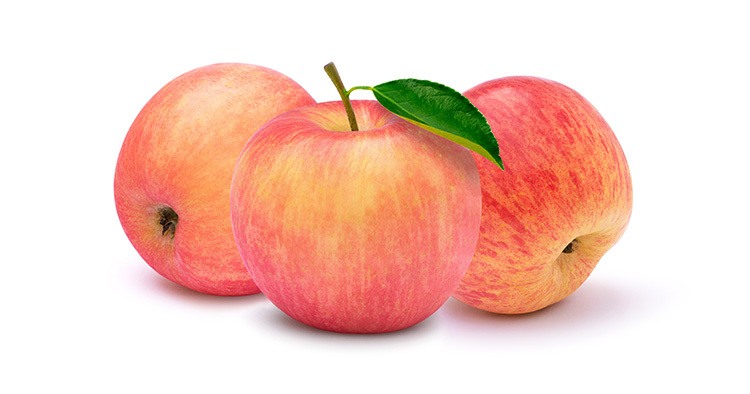 Fuji are one of the most popular apples right now. With a sweet and aromatic flavor, they make wonderful applesauce.  Fuji's are often yellow-green with red highlights. 
Golden Delicious
Golden Delicious have a rich mild flavor when baked or cooked.  They have a tender skin, so you don't necessary have to peel them, and it holds its shape well in cooking. Delicious when made into applesauce, it might require less lemon juice as it does not brown as easily as some other varieties. 
McIntosh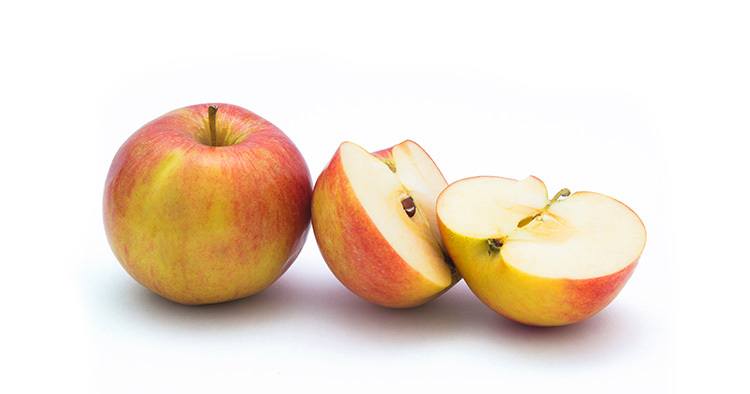 McIntosh is a an old variety that has been popular in America since 1811.  The national apple of Canada has red and green skin and a tender white flesh. With its sweet, tart, mild flavor, it's great to combine with other varieties when making applesauce. 
Which are the Best Apples for Canning?
Applesauce Apples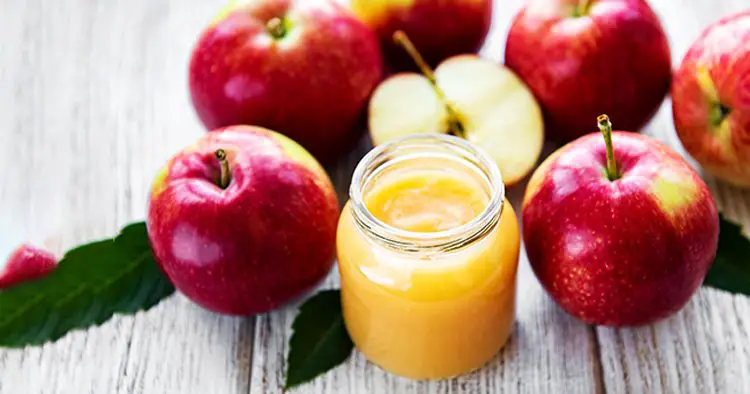 Apple choice depends on your taste preferences, but in general the best apples for applesauce will be a softer variety.  Here are some apples listed by the taste. 
| Taste Preference | Type of Apple |
| --- | --- |
| Very Sweet to Mildly Sweet | Fuji, Gala, Honeycrisp, Gold Delicious, Crispin, Cortland |
| Tart with a hint of sweet | Gravenstein, Jonamac, MacIntosh |
| Sweet and Tangy | MacIntosh, Braeburn, Rome, Pink Lady |
| Crisp, Tangy, and Sharp | Braeburn, Liberty, Ida Red, Rome |
| Tart and Tangy | Macoun, Granny Smith |
When making applesauce, after you cook it down taste them.  If they are too tart, add sugar or another sweetener.  Add less sugar if they are sweet on their own.  Often, a variety of different kinds of apples taste the best.  Add some tart apples in with the sweet ones.  These varieties will cook down well and make a great applesauce.
Applesauce can also be made with or without the peels.  Use one or a variety of apples.  The important part is that they breakdown well when cooked.
Stewed Apples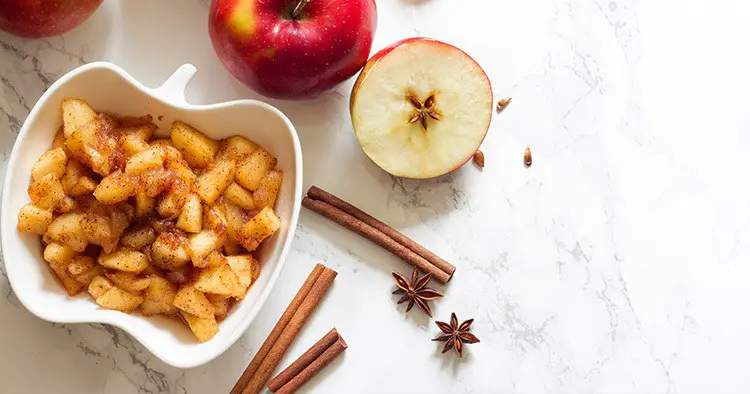 When you make applesauce and don't mush them down as fine, this is called stewed apples.  I also call this chunky applesauce.
Apple Butter Apples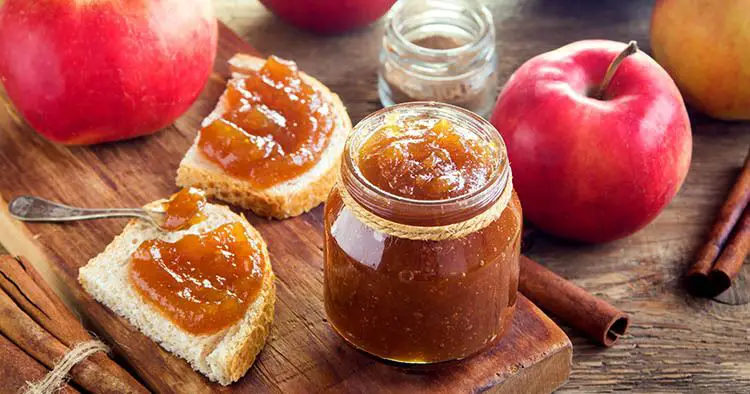 Since apple butter is made from applesauce, once you find a perfect recipe for applesauce, you can turn it into apple butter.
Pie Apples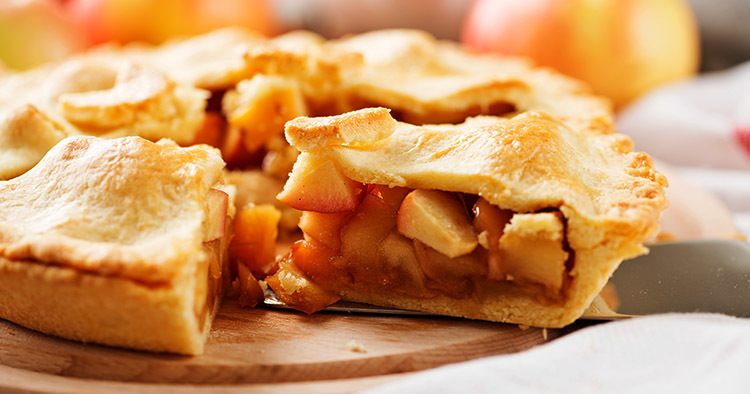 Apples for pie fillings need to be firm and will not break down during cooking.  Varieties that work best include McIntosh, Jonagold, Rome, Cameo, Jonathon, Red Delicious, Honeycrisp.  It's great to use a mixture.  So add Fuji, Gala or Pink Lady as well. 
Canned Apples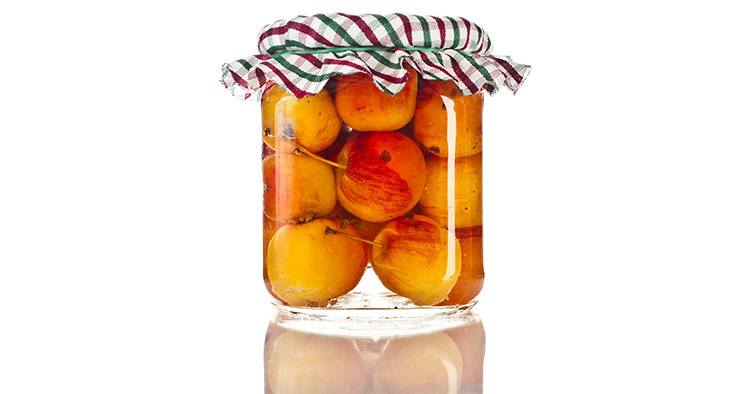 Many people can apples just for eating.  These are done in a simple syrup or in water.  You will want apples that are more on the firm side and don't break down while cooking.  Think the same apples you used for the pie filling.
Apple Juice or Apple Jelly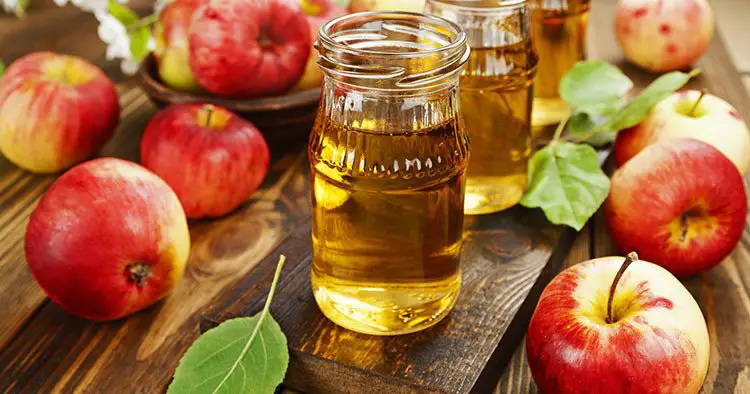 Use a mixture of apples that are naturally sweet – Red Delicious, Gala, Fuji, Rome, Yellow Delicious.  Apple Jelly uses apple juice.  So you can either can the juice or turn the juice into jelly with pectin.  If making apple jelly, you can also use apple juice purchased from the store.
Ready to Can Apples?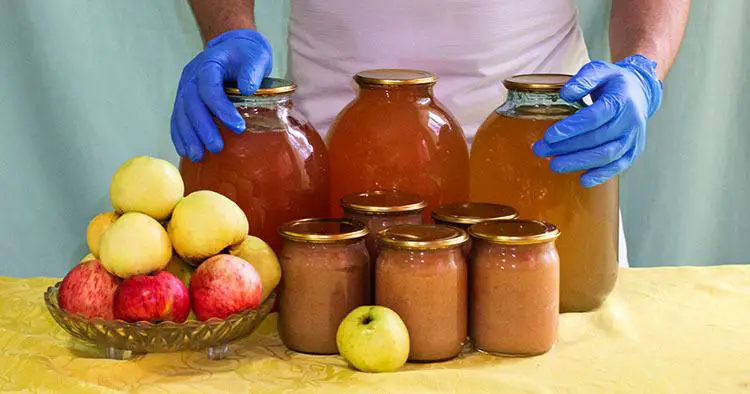 Now that you are familiar with different types of apples and which ones are best for canning, you can easily dedicate a corner of your pantry to canned apple products! What are your favorite apples and your favorite way to can them?