If there's one kitchen appliance that's been around in American homes for decades and loved by so many, it has to be the pressure cooker. You'll be certain to find at least one style of this handy appliance if you look in any kitchen across the country, and if you're on the hunt for the best pressure cooker for yourself then this guide can help you find it.
Pressure cookers are unique appliances that can cut cooking time while retaining flavor, and both of these huge benefits lead to their success. Thanks to advancements in technology, the modern pressure cooker looks completely different today to what it used to, and they're now easier to use with even more functionality.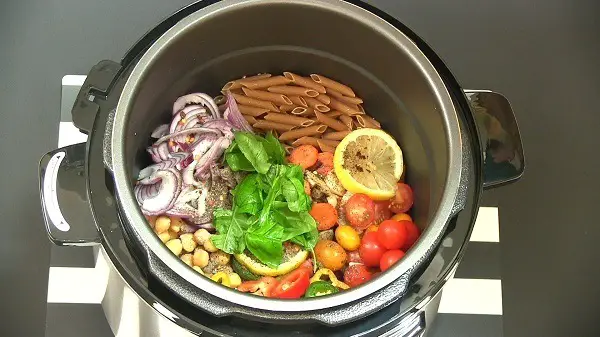 If you've been searching for a new pressure cooker to add to your collection, you might even feel overwhelmed by the sheer selection that's available. That's why we've compiled this handy buyer's guide that has everything you need to know about what features are important and what some of the leading pressure cooker brands have to offer.
We've even done the hard work of searching through countless pressure cooker reviews to find you the top rated pressure cooker and those that came close behind, so you can make cooking easier and tastier in your kitchen.
With the best all in one cooker at your disposal, you'll wonder how you lived without it, and will never want to be without your favorite appliance again.
Instant Pot Duo 80
Instant Pot Duo 60
Crock Pot Cooker
Ninja 4-in-1 Cooking System
Gourmia Multi Cooker
Our Top Picks For Best Pressure Cooker
When it comes to finding the top pressure cooker out there, there are some that just can't be beaten. We've looked through all of the multi-cooker reviews and narrowed down the best of the best so that you don't have to, and can confidently and easily find the very best pressure cooker for your kitchen and family's needs.
If you know anything about pressure cookers you'll know that the Instant Pot is the number one selling appliance in this field. It only makes sense then that we give them their very own category as the best-rated pressure cooker and see which model makes it out on top.
Best Instant Pot: Instant Pot Duo 80
As their number one selling product, it only makes sense that the Instant Pot Duo makes it to the top of our list. Coming in the largest size, the Instant Pot Duo 80 means that you're able to pick an appliance that suits your family size and kitchen needs, so you can always be sure there will be enough to feed everyone and leave some for leftovers.
The Instant Pot Duo couldn't be easier to use which is one of the reasons why it's so popular. There's a handy display that shows you everything you need to operate it and plenty of buttons to choose from so you'll never need to worry about messing a meal up.
You can be as specific as you need with settings for multigrain rice through to soup and broth, so it's simple to use even for a beginner.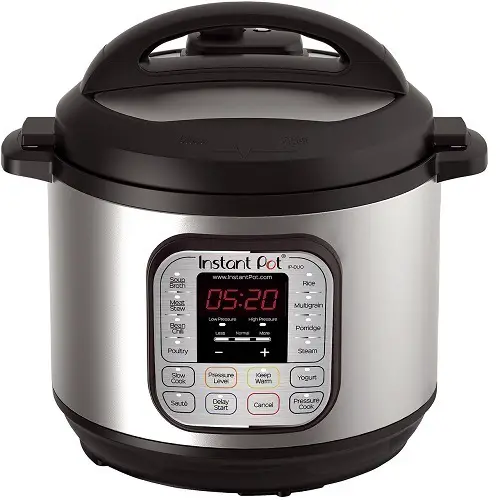 source: instantpot.com
Another huge advantage that this slow cooker has is its versatility in what it can create, and that's precisely why it's been as popular as it has. The Instant Pot Duo lets you make all types of meals because it acts as seven different appliances in one, including a slow cooker, yogurt maker, steamer, and saute expert, amongst others.
One issue that some reviewers had was the rubber seal that keeps your pot closed, with a few commenting on the fact that it kept the smell of whatever it had cooked within.
This means if you're making smelly seafood or something that can be quite strong you may even go so far as needing to replace the seal, and doing this over the years can certainly add up in costs.
This is the ideal cooker for everyone from amateur chefs to seasoned professionals because there really is no way that you can get it wrong. The Instant Pot Duo does most of the work for you so that you can focus on other important things while still feeling the peace of mind that your home and family will be getting fresh and nutritious meals each night.
Runner Up Best Instant Pot: Instant Pot Duo 60
Coming in a little smaller but still just as impressive, the Instant Pot Duo 60 is a six-quart appliance that can do just about everything the 80 can. These slow cookers are ideal for people with fewer people to serve like those who live alone or in a couple, or for larger families who want to use their Instant Pot for desserts, yogurt making, and dips and sauces.
The Instant Pot Duo 60 is certainly one of the most versatile slow cookers on the market with the ability to do so much more than just pressure cook. You'll be able to sauté vegetables to perfection or cook rice so that it's perfectly fluffy, and it's all possible by just pressing one button and then letting the machine do the rest.
The new 2017 models of Instant Pot have been upgraded so that they suit the customer's needs better, with additions like a blue light on the display and more customized features so that you have to think less about the delicious meals you're creating.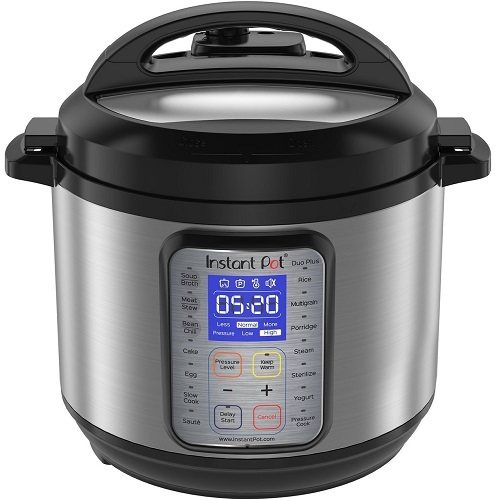 source: instantpot.com
There are still complaints from users about the quality of the seal, which can be an annoyance to replace, and some believe that it also takes on the smell of whatever you were cooking, so this still needs to be improved.
The Instant Pot Duo 60 can be a little on the small side so it's probably best to upgrade to the 8-quart model if you think you might need it. These smaller models are ideal for those living alone but if you ever plan on entertaining or feeding a family then the size might not be sufficient.
The Instant Pot name is definitely one of the most famous in the world of slow cookers and they show you exactly why the very first time you use their appliances. With easy to use buttons and selections that make it simple to choose whatever you want to cook and have it done to perfection, they really are the superior choice in terms of all in one cookers.
Alternative 1: Crock Pot Cooker
Another beloved name in the pressure cooker industry has to be Crock Pot, with most of this iconic brand's products acting more as versatile cookers than any one given style.
The Crock Pot Cooker measures in at 6 quarts so it's ideal for people with only small crowds to feed, and it's got a whole range of features that make it more versatile than a pressure cooker alone.
With the Crock Pot Cooker in your kitchen, you'll have access to a pressure cooker, slow cooker, browner, steamer, and sauté device all with just one appliance. There's a handy display panel on the front with easy to read buttons so all you need to do is select the meal you desire and the CrockPot can handle the rest.
The CrockPot Cooker has been designed for easy cleaning, however, some of the online reviews have mentioned some fading and discoloration from the pot itself when they tried to wash it.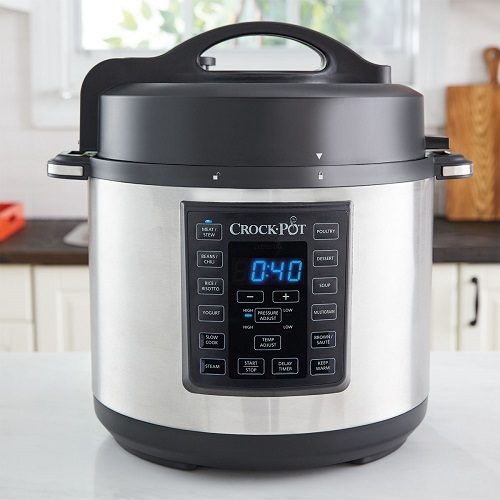 source: crock-pot.com
In this case, it might be best to use a gentle washing process instead which can add a little more time in the kitchen, but at the low price it has compared to other brands it's surely something you can overlook.
Because the CrockPot Cooker isn't quite as versatile as the Instant Pot some users found issues when searching for recipes or online guides as they seemed to be made mainly for the Instant Pot, however, you can use this as a chance to get creative and try your own meals which could have surprising results.  
As an added bonus, people have found that it runs quieter than the CrockPot so this can be a huge bonus when you like tranquility in the kitchen.
There's no denying that the CrockPot is a serious contender for the best multi cooker and one that is well within the price range of the average family. If you're hoping to make mealtime easier and still feed your family fresh and delicious foods without hours of prep and cooking, the CrockPot Cooker is a great option.
Alternative 2: Ninja 4-in-1 Cooking System
Although not technically the best-rated pressure cooker, the Ninja 4-in-1 Cooking System has so many features available that you might not miss this specific function. This works much harder than your regular slow cooker because it can also steam, stove cook, and sear, but without any of the usual hassles that you might be used to.
The Ninja 4-in-1 Cooking System comes with a six-quart nonstick cooking pot so it's got enough room to feed a small family, but no option for upsizing should you want anything larger.
However, Ninja has included so many accessories that you'll forget all about this with oven mitts, racks, multipurpose pan, glass lids, cookbook and traveling bag being among just some of the things you can expect along with your Ninja.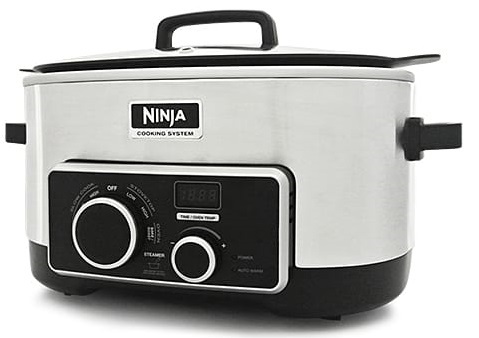 source: ninjakitchen.com
This is a great choice for the home chef who's trying to make healthier meals but doesn't have the time to invest in the kitchen, and once you see how easy it is to use you'll have no excuse not to steam yourself some vegetables each night for dinner or roast a leg of lamb from scratch.
The buttons and display make it easy to cook just about anything and it does it to perfection, tasting as though you had a professional chef helping all along.
The difference between the Ninja to other pressure cookers and multi cookers is how it uses a multi-heat pot to get results. Bottom heat, side heat and steam heat all work together to get you succulent and tasty meals no matter what you're cooking, and it does so in just minutes.
Ninja has included a non-stick coating on this cooker so there's the potential for chipping this off, especially if you're doing something delicate like shredding meat. Although it's intended to help you cook easier it can actually be somewhat of a hindrance, so if you prefer not to cook with these surfaces it's best to shop around.
Alternative 3: Gourmia Multi Cooker
If you've been searching for countless multicooker reviews looking for something truly versatile, you can stop your search with the Gourmia Multi Cooker. This amazing appliance boasts up to 18 different functions that can take you from appetizers through to desserts and all possible with just one machine in your kitchen.
The multiple settings available on this cooker is what makes it so unique, as users will have the chance to braise, roast, saute, deep fry, steam, and bake, plus a whole lot more. If you want more than just a traditional pressure cooker but don't want to spend a fortune purchasing all of the different devices then this is a great option.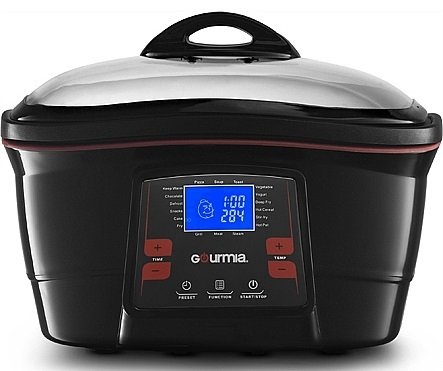 source: gourmia.com
One problem with the Gourmia Multi Cooker that takes away from its versatility is the inability to adjust temperatures as they're already preset with each individual function. This means you don't have the freedom to create and experiment as you'd like to, so it might not be the right fit for every kitchen.
A few of the users have also commented on the sheer number of options on the display which can be overwhelming, but that seems to come with the territory when you're looking for the best electric pressure cooker that can do a whole range of other things. If you prefer things simple then the Gourmia Multi Cooker may be a little too complex for what you need.
This is the ideal choice for the family searching for healthier food options, and although you can deep fry things within it seems to really stand out when it steams and roasts. There's minimal effort required on your part to get fast and delicious results, so it makes a smart investment for homes of all sizes and with all dietary requirements.
Why Should You Opt For A Pressure Cooker?
With so many great options available for the best pressure cooker, you might still be wondering why exactly you need this appliance. As you can see, the modern pressure cooker can certainly do a lot more than it used to, with brands now making them into versatile multi cookers that not only pressure cook but also sauté, sear, and steam.
At its most simple function, a pressure cooker works by harnessing the power of steam in its cooking. These appliances work with a sealed pot that gradually builds up steam inside until it reaches a certain point. This steam is used to cook through all kinds of ingredients, but especially meats, in order to create a tender and perfect texture.
When compared to cooking your food in an oven or on the stove top, the key benefit to pressure cookers is how fast they get the job done. These are the ideal appliances for people who are short on time and want to throw a few ingredients together after work, resulting in a tasty and hearty meal for the whole family.
The modern pressure cooker excels at doing this function, but also comes with the ability to do so much more. They achieve this usually by having a versatile design that works with one large pot and a number of different settings so that you're capable of so much more than just pressure cooking.
Thanks to advancements in technology, these multi cookers can achieve all of these things by just pressing a button, adding even more simplicity to this style of cooking.
What To Look For When Choosing Your All In One Pressure Cooker
We've shown you the top rated pressure cookers and multi cookers on offer, so now it's time to delve a little into what makes them so special.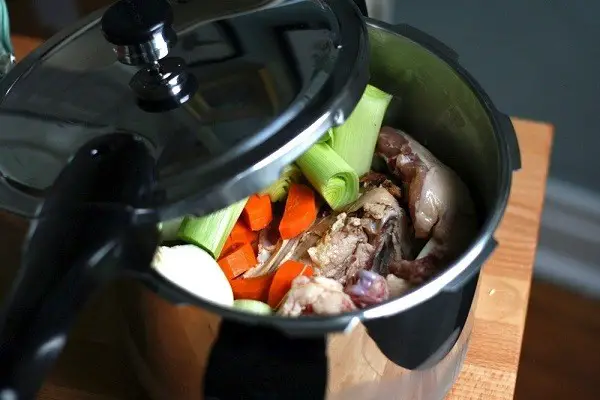 The features of your pressure cooker will be the biggest indication you have about its quality, functionality, and ease of use, so they're essential to learn about and important to look for when choosing one for your home. Here are a few things you'll need to consider and how they might impact the final product.
Material
There are a few common materials used in the pressure cooker pots including ceramic and stainless steel. Some are coated with an anti-stick surface like Teflon which helps prevent them from sticking, however, this can also create issues if it starts to scratch or chip.
Many of them have glass lids which make it easy to keep a check on your cooking, with multi cookers also giving the option of openable air vents if you're using another function.
Quality
There is quite a wide variety of quality when it comes to pressure cookers and kitchen appliances, so it's best to shop for brands that are well known and reputable.
A good way to check the quality of a pressure cooker is to look at their warranty period and see if it's substantial enough for the price paid, with most premium brands offering at least 24 months of limited warranty on their appliances.
Number Of Features
Some people prefer a simple pressure cooker with just one function however the market today tends to lean towards the multi-cooker.
There are options for how many functions you need though with some doing just a few and others capable of up to 20 different styles of cooking. If you're after value for money you might prefer lots of functions otherwise you might prefer to keep it simple with only a few.
Maintenance And Cleaning
One key feature to consider is how easy they are to care for when the cooking is done, as this can take quite some time in the kitchen. Some pots can be easily removed and placed in the dishwasher and others require a gentle wash in the sink, it all depends on how much time and effort you're happy to put in.
An Essential Kitchen Appliance For Any Home
Finding out what is the best pressure cooker is a matter of looking at your home, family, and kitchen to decide which appliance suits you best. The role of these cookers is to make life easier for you during meal preparation while also ensuring that your family gets nutritious and delicious meals on the table each night.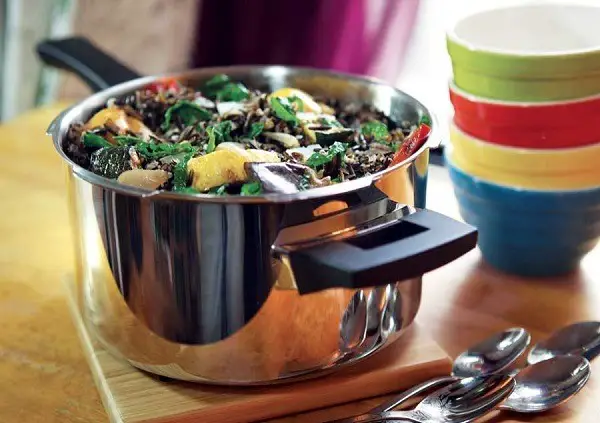 Pressure cookers have long been one of America's most beloved kitchen appliances, and with the new range of devices now offering even more functionality than before it's great to see that they've evolved with the times.
These multi cookers can now do virtually anything you need in the kitchen and they do it with ease, so they're ideal for everyone from absolute beginner cooks to those with years of culinary experience.
Choosing the best pressure cooker isn't a decision that needs to be hard, and with our helpful buying guide, we've hopefully made the process a little easier.
There's never been so much importance of nutrition and good eating than there is today, and with the simple addition of a pressure cooker to your kitchen, you can be well on your way to improved diet and healthier lifestyles for the whole family.