As part of a heart-healthy diet, lentils are a great source of nutrition.  They provide protein, vitamins, and minerals; and, are also a great source of fiber.  Fiber is extremely beneficial for your digestive system, but does have some side effects.  Let's explore the age-old, and sometimes embarrassing, question: "Do Lentils Cause Gas?" 
Why Beans Cause Gas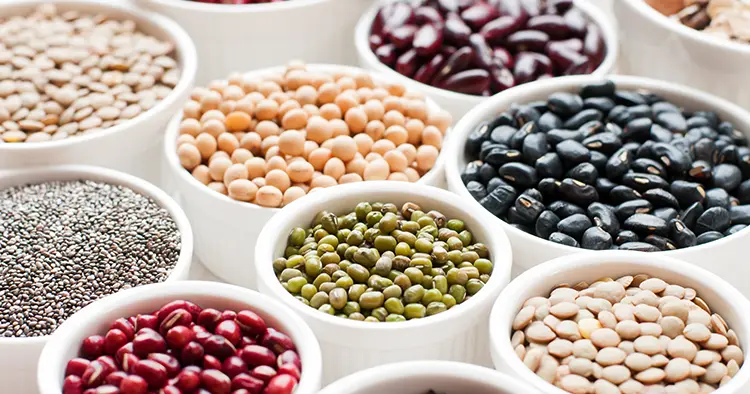 Lentils, beans, and other legumes are rich in soluble fiber.  A component of this is called oligosaccharides, which is a type of sugar that does not break down easily in your gut.  The body is unable to digest these carbohydrates and passes them directly to the large intestine.  The bacteria in your lower intestine feast on these oligosaccharides and produce hydrogen, nitrogen, and carbon dioxide gases.  These come out of your body as flatulence.
Ease into Lentil Eating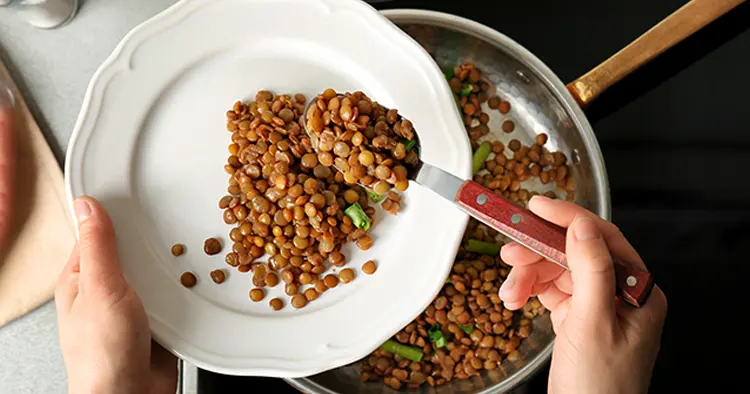 Use lentils in small amounts at first. Just like adding any other food to your diet, your body may need a period of adjustment to the extra fiber and nutrients. You may have an issue if you start by eating a cup every day.  To avoid any uncomfortable or embarrassing reactions from your digestive system, start by adding a handful to a salad or a soup. Later on, you can incorporate them into your daily diet.
How to Reduce the Gas in Beans
Your body will eventually adapt to the extra fiber in your diet, but this might take a few weeks.  The good news is that lentils cause less gas than beans. Brown lentils are the easiest on your system.  
There are several things you can do to reduce the gas caused by beans or lentils.
Soak the Lentils Overnight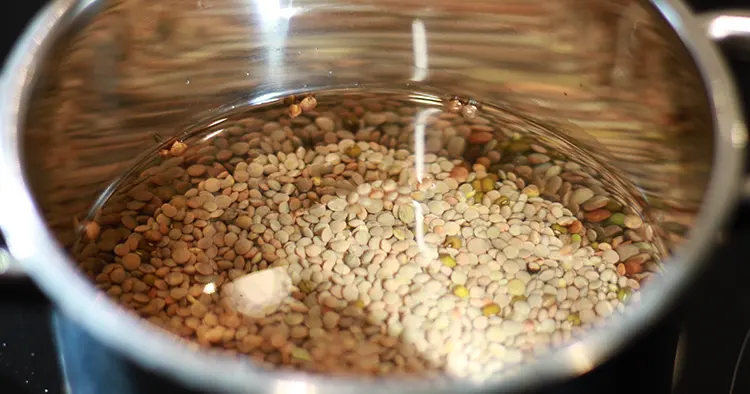 The easiest way to reduce the oligosaccharides in lentils is to soak them overnight.  Cover them with cool water, place a towel over the top of the bowl, and leave them on the counter.  Before you cook them, drain the soaking liquid and add fresh water.  This will soften the lentils and cause them to ferment, which in turn creates yeast that helps break down and consume the indigestible gas-producing sugars in your body.
Rinse Your Beans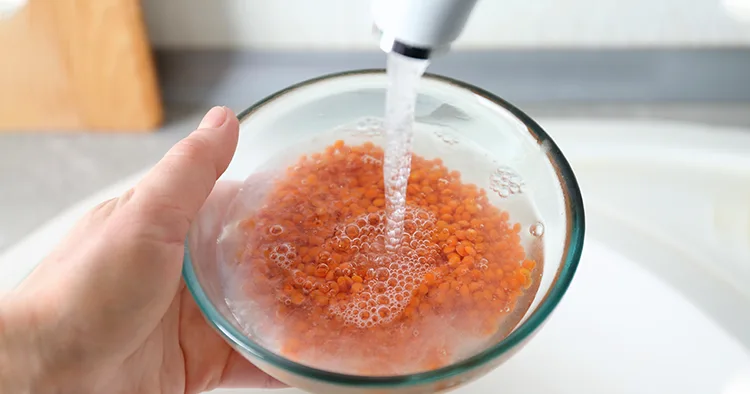 Even if you don't soak your dried beans overnight, you should rinse them off for at least 1 minute in cold water.  Two or three times makes a bigger difference.  If your lentils come from a can, definitely rinse them with cold water.  Canned lentils are often high in sodium and this can contribute to your bloating or gassiness.  
Add Spices or Baking Soda while Cooking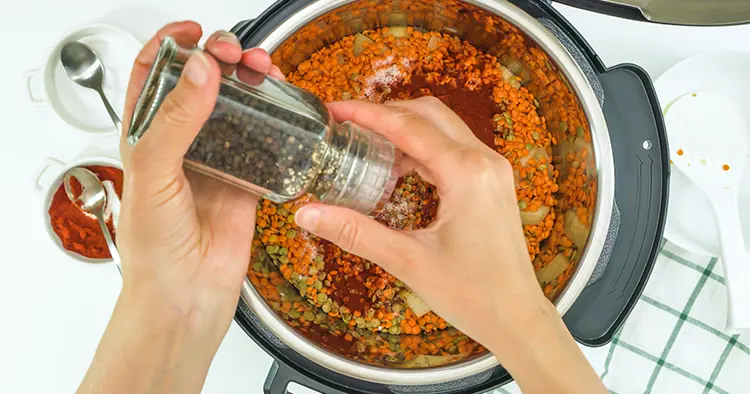 Add a large pinch of fennel seeds or freshly grated ginger to the boiling water in the last 5 minutes of cooking.  Certain spices, such as cumin, thyme, and rosemary also help to facilitate digestion.
You can also mix ⅛ teaspoon of baking soda with ¼ cup of water and then add it to the lentils.  This will aid in the digestion process just like the herbs and spices will. 
Regulate the Cooking Process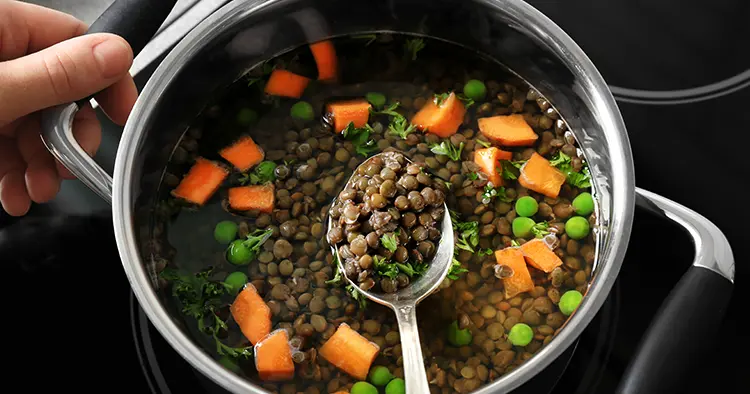 Disrupting the cooking process can also help reduce the presence of oligosaccharides. As lentils reach the boiling point, remove the pan of lentils from the heat for 10 minutes, then return the pan to heat and continue cooking. Alternatively, you can add a cup of cold water to reduce the temperature of the lentils.
Take a Digestive Enzyme to Reduce Gas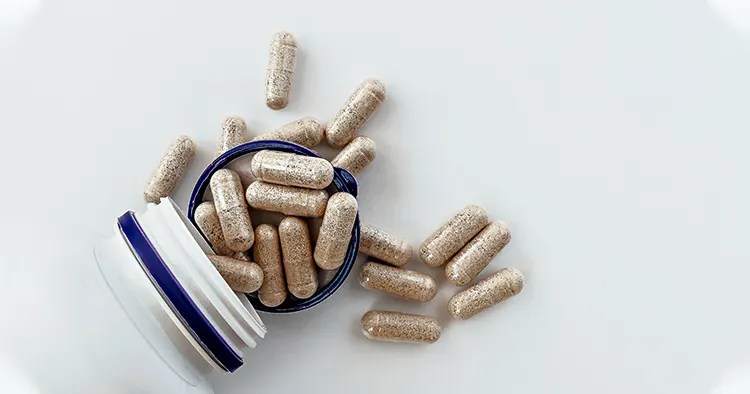 A digestive enzyme will help your gut adjust to the parts of the lentils that cause the excess gas. Products like Beano contain an enzyme called alpha-galactosidase that will help reduce the flatulence from the lentils.    
Do Lentils Cause Gas?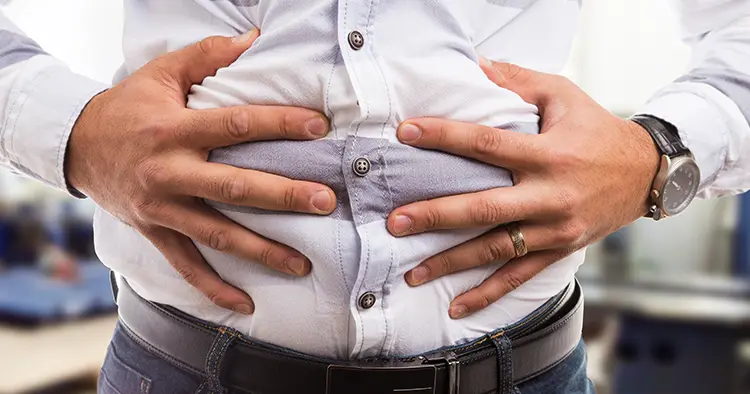 Short answer, yes. Until your body gets used to the nutrients in your new diet of lentils, it may cause you some gut issues. If you are going to be around a bunch of people and you want to avoid potential embarrassment, absolutely try one of the remedies listed above.
If you've tried a variety of these techniques and given your body a few weeks to adjust but you are still having issues, you may be intolerant to lentils.  In rare cases, some people can have an allergy to lentils.  If this is the case, check with your doctor to see if there are other underlying causes. You may need to eliminate them from your diet.
If you do not have an intolerance, I encourage you to try a few of these ideas and see which ones work for you.  Lentils are definitely a food that you should add to your diet on a periodic basis.  While they are inexpensive and easy to prepare from scratch, they are also delicious from a can.  Try a bowl of soup, a lentil salad, or just have them as a side dish with your meal.  
We'd love to hear what works for you in the comments below!