What is more delicious than homemade hot apple pie!  It is so easy to take a bushel of fresh, delicious apples and turn them into canned apple pie filling for use all year long. Open the jar of fresh pie filling, put it into a pie crust, and bake.  Of course you could make pies using apple pie filling from a can, but it might have preservatives and additives, and frankly it just doesn't taste the same. 
Best apples for canning apple pie filling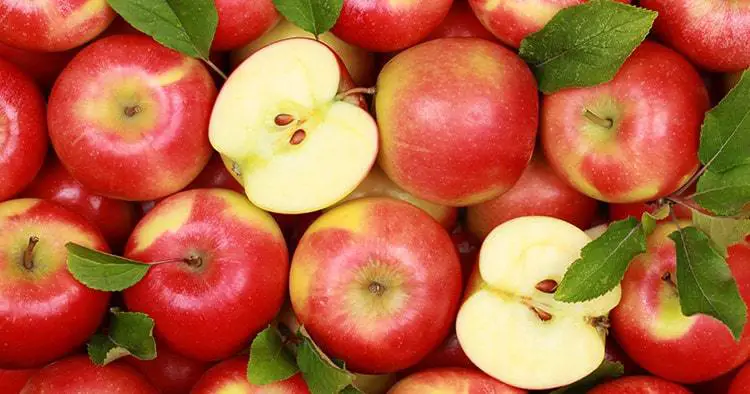 Pie apples should be firm and hold their shape when they are cooked.  Varieties that fit this description include McIntosh, Jonagold, Rome, Cameo, Jonathon, Red Delicious, and Honeycrisp.
Preparing the Apples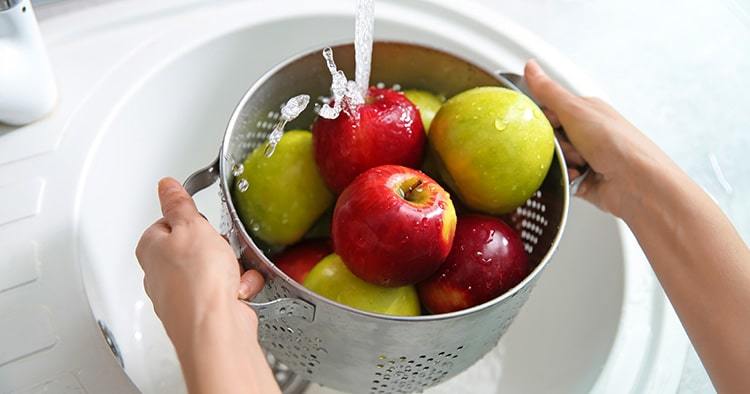 Wash the apples.  Even if you choose organic apples, you will want to rinse them under cold water.  If you use apples from the store or anywhere else, they might have been sprayed with chemicals.  Even when you peel them, some of this residue might get on your apples. 
Core and slice the apples.  A corer/slicer makes this easy work.
Put the apples in a solution to prevent browning.  You can use lemon juice and water – 1 part lemon juice to 16 parts of water, 8 cups of water to ½ cup of lemon juice.  Other options are FruitFresh or ascorbic acid.  Read the package directions on how to use these.
Bring 1 gallon of water to a boil in a large pot.  Add 6 cups of apples (if you have more, boil them in batches).  Bring the water back to a boil and boil for 1 minute.  Drain the apples and keep them in a covered pot until you are ready to fill your cans.   This process removes excess air in the apples which helps with the sealing process and you will be able to get more apples into your jars.  You need 6 quarts of apples to make 7 quarts of pie filling.
Prepare the Filling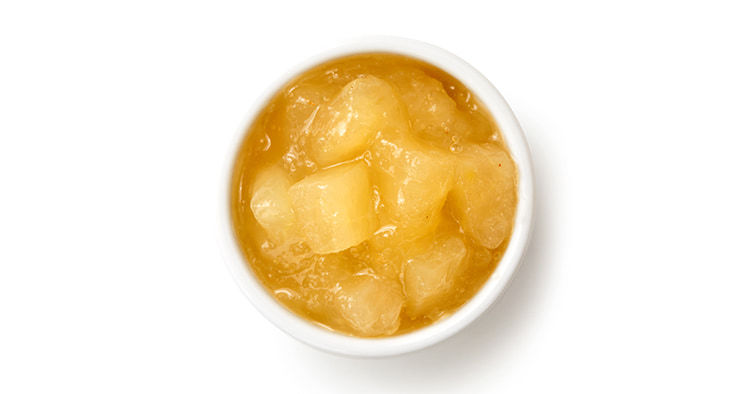 This filling will be enough to fill 7 quart jars with apple pie filling. 
In a large pot, add these ingredients:

5 ½ cups of sugar

1 ½ cups of Clear Jel

1 tablespoon cinnamon

2 ½ cups water

5 cups apple juice


Stir and cook on medium heat until the mixture gets thicker and begins to bubble

Add ¾ cup bottled lemon juice and boil 1 more minute, stirring constantly
Note:  Clear Jel is a special type of cornstarch that flows while it's hot but thickens and sets when it's cooled.  It can also be heated and cooled multiple times. 
If you do not want to use Clear Jel, omit it from the recipe.  The pie filling will not thicken up but can be canned just fine this way.  When you go to make a pie, you'll need to add a thickener such as cornstarch to get it that thick pie consistency.
Cornstarch is not an approved ingredient for putting in canning jars as it breaks down over time.  The Clear Jel is really the safest and easiest to use product designed for canning.
Fill the Jars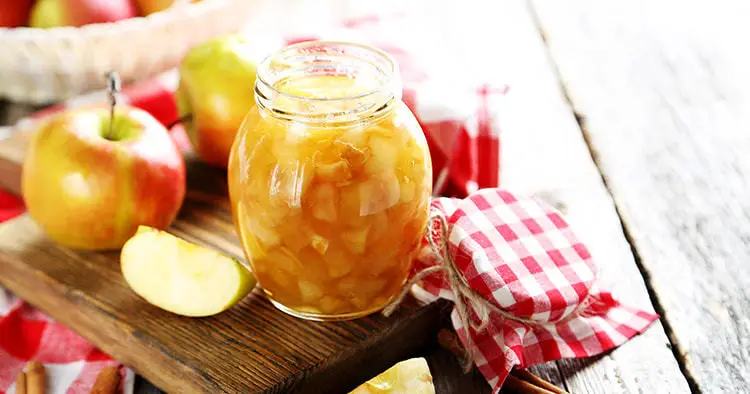 Add the warm apple slices to the filling mix and fold them in gently. 
Using a funnel, add the apple pie filling to the jars.  Leave 1 inch of headspace.
Using a bubble popper or something similar, make sure there are no bubbles in the liquid.
Wipe the rims with a clean rag or wet paper towel.
Add the sterilized lids and rings and hand tighten.
Process the jars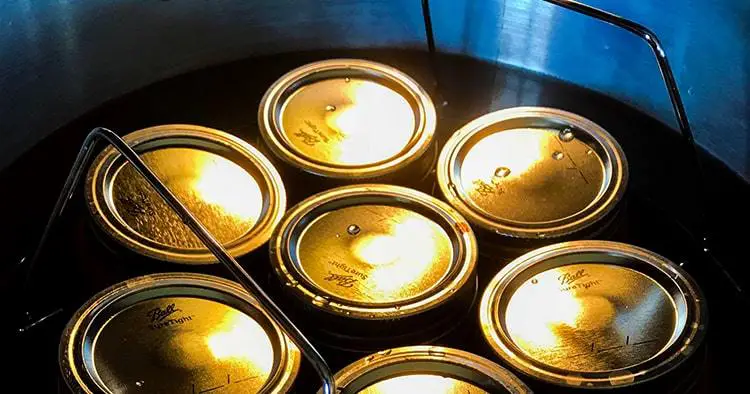 Using your water-bath canner, process the jars in boiling water for 25 – 40 minutes depending on your altitude.  If you are at sea level, processing time is 25 minutes.  Add 5 minutes for each 3,000 feet in altitude gain.  This high altitude pressure canner chart will explain why this is necessary. 
Cool and Store the Jars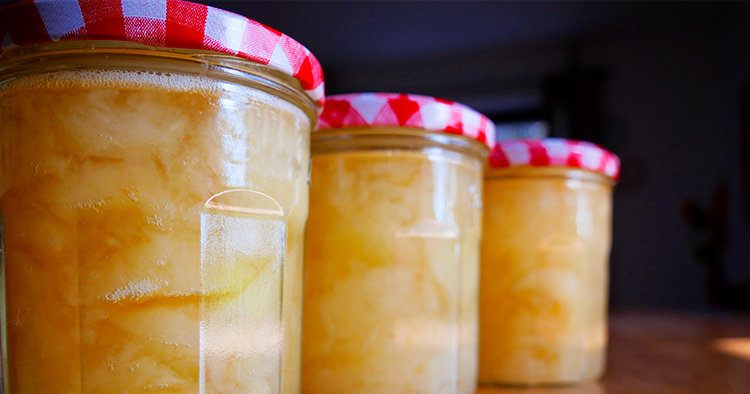 Turn off the heat, remove the lid on the canner, and let the jars sit in the water for 5 minutes.  Remove the jars from the boiling water and place them in a warm place to cool slowly.  I find that cooling them slowly helps with the seal.  This is not necessary – just keep them out of drafts.  Leave a 1-inch space between the jars when letting them cool. 
There is a something called siphoning that sometimes occurs when canning apple pie filling.  In essence, it is the hot gel leaking out of the jars when the hot jars hit the cooler air.  When the jars are cooled, wipe the sticky pie filling from the outside of the jar and check carefully for the seal.  If there is a seal, you are ok to store the jars at room temperature in your pantry.  If they didn't seal, place it in your refrigerator and use the contents in the next few days.
To prevent this, make sure you have at least a 1 inch headspace when filling the jars and let the jars sit in the water bath for an extra 5 minutes after you've turned off the heat and before you lift the jars out of the water-bath.
Apple Pie made with Canned Apples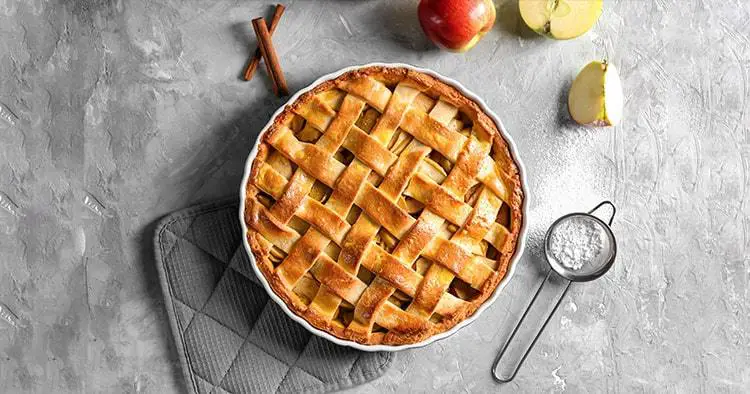 Now you are ready to make pie! 
1 quart of apple pie filling are required to make a 9-inch pie
Pour 1 quart of filling into a 9-inch pie crust.  You can make your own crust or purchase one from the store. 
Add a top crust if you like and cut slits for the steam to escape.
Crimp the edges of the top and bottom crust together.
Bake at 400 degrees Fahrenheit (204 degrees Celsius) for 50 minutes.
What else can I do with Canned Apple Pie Filling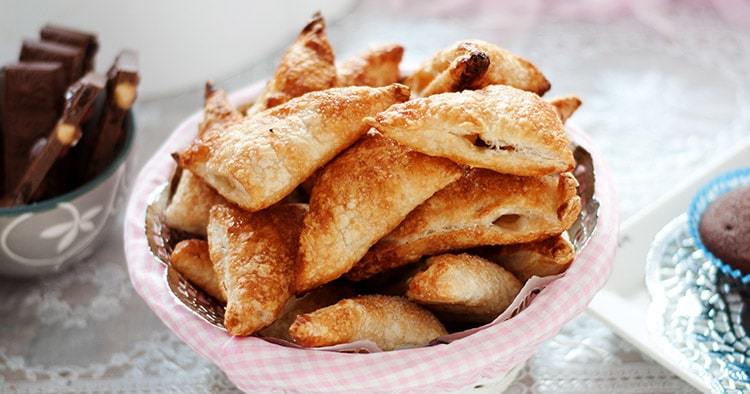 Make apple turnovers
Put on top of pancakes
Make an apple crisp
Put on top of ice cream or oatmeal
Conclusion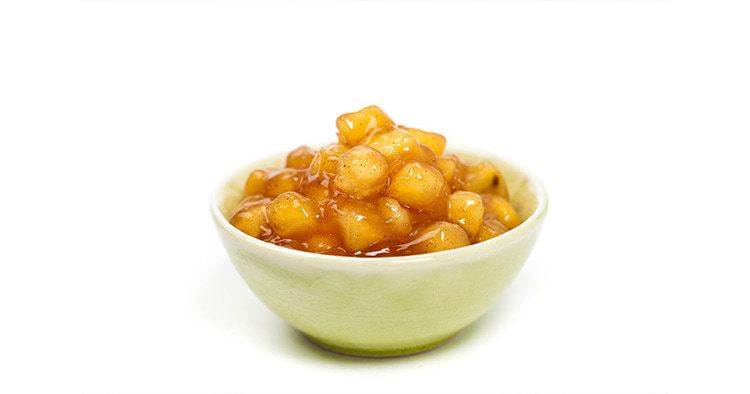 There are a number of apple pie filling recipes with some minor variations.  If you don't want to use apple juice, you can add more water.  The Amish Apple pie Filling recipes generally add more water and more cinnamon and omit the apple juice.  Some Amish recipes mention cornstarch, but as mentioned, that is not recommended. 
You can add more or less sugar depending on your taste.  I've seen a recipe that used honey or sucanat instead of sugar.  Whichever recipe you use, canned apple pie filling should definitely be a staple in your pantry. Share in the comments below your favorite apple pie tradition!